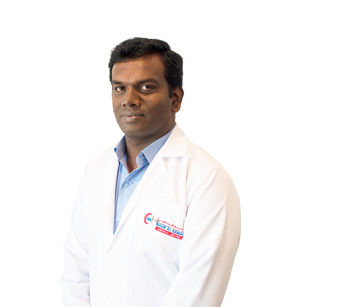 Dr Arun Kumar PV
Registrar
General Practice
MBBS
14 years of experience
Farwaniya (Kuwait)
About Dr Arun Kumar PV
Dr Arun Kumar is a highly experienced Registrar in General Medicine with more than 10 years of clinical expertise behind him. He is excellent in providing diagnostic, curative and palliative care to his patients that are suffering from various acute and chronic health problems. His experience in prestigious hospitals has given him ample experience to provide diagnostic, therapeutic, rehabilitative and palliative care. His skills come in great use in the Emergency section where he provides his excellent training skills in medical and minor surgical procedures. He is skilled in making quick diagnosis and providing timely treatment.
Excellence & Experience
Area of excellence
Acute Medical cases
Diabetes Management
Hypertension Management
Allergy & Asthma management
Women and child health
Emergency & Critical Care medicine
Level of Experience
More than 10 years in the field of primary care
Resident Medical officer – Medicare Hospital, Kerala, India – 2007-2011
Medical Officer – Blossom Multispecialty Hospital, Karnataka – 2011-2017
Awards & Academics
Academics Details
MBBS – Aadichunchanagiri Institute of Medical Sciences, Bellur, Bangalore - 2005
Out Patient Timings
The outpatient timings at Badr Al Samaa Hospitals have been planned in such a way that your choice of doctor is available whenever you are free.
Sunday
4:00 PM - 12:00 AM
Farwaniya - Kuwait
Monday
4:00 PM - 12:00 AM
Farwaniya - Kuwait
Tuesday
4:00 PM - 12:00 AM
Farwaniya - Kuwait
Wednesday
4:00 PM - 12:00 AM
Farwaniya - Kuwait
Thursday
Friday
4:00 PM - 12:00 AM
Farwaniya - Kuwait
Saturday
4:00 PM - 12:00 AM
Farwaniya - Kuwait