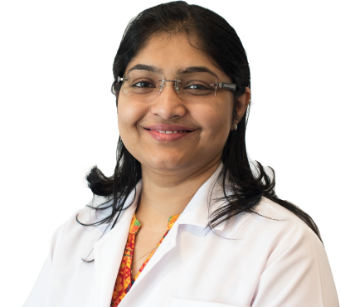 Dr Pragathi U Nambiar
Specialist
Obstetrics & Gynaecology
MBBS, DNB, MNAMS (Obs/Gyn)
17 years of experience
Farwaniya (Kuwait)
About Dr Pragathi U Nambiar
With more than 13 years of experience, Dr Pragathi U Nambiar is a compassionate and highly skilled Gynaecologist and Obstetrician who is committed to giving her patients the best. Having trained under notable stalwarts in India, her passion has been in providing fertility treatments, holistic and wholesome approach to pregnancy and delivery, treatment of all gynaecological problems and management of elderly women with concerns related to menopause. To achieve the same, she spends time analyzing the situation of each patient and formulating an individualized plan to achieve the best results for each of her patients.
Excellence & Experience
Area of excellence
Treatment for Infertility
Polycystic Ovarian Syndrome
Metabolic Syndrome & effect on fertility/pregnancy
IUI Treatment for fertility
Management of high-risk pregnancy
Level of Experience
Asst Professor – Malabar Medical College, Calicut, India - 2011
Obs/Gyn Consultant - Samad IVF Centre, Trivandrum, India
Awards & Academics
Academics Details
MNAMS – National Board - Delhi, 2013
DNB – Baby Memorial Hospital, Calicut, 2011
MBBS - Maharashtra Institute of Medical Education and Research (MIMER), Pune, 2006
Out Patient Timings
The outpatient timings at Badr Al Samaa Hospitals have been planned in such a way that your choice of doctor is available whenever you are free.
Sunday
9:00 AM - 1:00 PM
Farwaniya - Kuwait
5:00 PM - 9:00 PM
Farwaniya - Kuwait
Monday
9:00 AM - 1:00 PM
Farwaniya - Kuwait
5:00 PM - 9:00 PM
Farwaniya - Kuwait
Tuesday
9:00 AM - 1:00 PM
Farwaniya - Kuwait
5:00 PM - 9:00 PM
Farwaniya - Kuwait
Wednesday
Thursday
9:00 AM - 1:00 PM
Farwaniya - Kuwait
5:00 PM - 9:00 PM
Farwaniya - Kuwait
Friday
9:00 AM - 1:00 PM
Farwaniya - Kuwait
5:00 PM - 9:00 PM
Farwaniya - Kuwait
Saturday
9:00 AM - 1:00 PM
Farwaniya - Kuwait
5:00 PM - 9:00 PM
Farwaniya - Kuwait