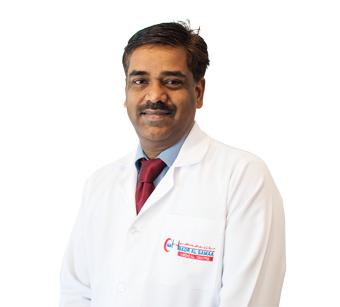 Dr Justin Stephen
Specialist
General & Laparoscopic Surgery
MBBS, MS, FRCS (Edinburg)
24 years of experience
Farwaniya (Kuwait)
About Dr Justin Stephen
Dr Justin Stephen is an outstanding Specialist surgeon in General Surgery with over two decades of experience behind him. He has worked across many countries and numerous hospitals in the capacities of a teaching faculty as well as a specialist surgeon. This vast exposure has made Dr Justin Stephen a highly skilled surgeon capable of performing all types of general surgeries. He employs the latest surgical procedures including minimally invasive surgical techniques to ensure his patients spend the least time in hospital and have faster recovery periods. He also believes in keeping himself updated by attending conferences regularly.
Excellence & Experience
Area of excellence
Laparoscopic Surgery
Laser Varicose Vein Surgery
HAL-RAR Surgery Haemorrhoids
Level of Experience
Asst Professor in Surgery - Azeezia Medical College, Kollam, India - 2013
Lecturer in Surgery - Elbatnam Medical College, Libya - 2009
Specialist Surgeon – PVS Hospital, Calicut, India - 2008
Specialist Surgeon – Apollo Medical Centre, Doha, Qatar - 2004
Senior Lecturer in Surgery – Alappuzha Medical College, India - 2005
Awards & Academics
Academics Details
MBBS – Trivandrum Medical College, India - 1994
MS (General Surgery) - Trivandrum Medical College, India - 2000
FRCS – Royal College of Surgeons, Edinburg, UK - 2003
Out Patient Timings
The outpatient timings at Badr Al Samaa Hospitals have been planned in such a way that your choice of doctor is available whenever you are free.
Sunday
Monday
9:00 AM - 1:00 PM
Farwaniya - Kuwait
5:00 AM - 9:00 PM
Farwaniya - Kuwait
Tuesday
9:00 AM - 1:00 PM
Farwaniya - Kuwait
5:00 AM - 9:00 PM
Farwaniya - Kuwait
Wednesday
9:00 AM - 1:00 PM
Farwaniya - Kuwait
5:00 AM - 9:00 PM
Farwaniya - Kuwait
Thursday
9:00 AM - 1:00 PM
Farwaniya - Kuwait
5:00 AM - 9:00 PM
Farwaniya - Kuwait
Friday
9:00 AM - 1:00 PM
Farwaniya - Kuwait
3:00 PM - 11:00 PM
Farwaniya - Kuwait
Saturday
9:00 AM - 1:00 PM
Farwaniya - Kuwait
5:00 PM - 9:00 PM
Farwaniya - Kuwait