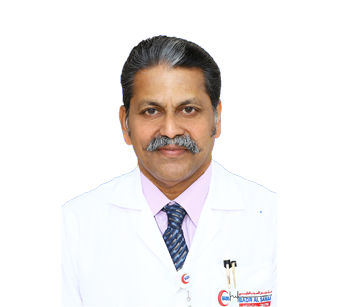 Dr Rajasekharan
Specialist
Urology & Andrology
MBBS, MS, MCh (Urology)
34 years of experience
Farwaniya (Kuwait)
About Dr Rajasekharan
With more than 30 years of experience under his belt, Dr Rajesekharan is a highly experienced Consultant Urologist. His keen interest treatment of kidney stones, ureteric stones, Urological problems, Sexual dysfunctions & Male infertility, made him a popular Urologist in various places in India and now in Kuwait. He is also skilled in the treatment of conditions like bladder control issues and problems with the prostate. Dr Rajasekharan also has an interest in EndoUrology, Paediatric Urology and Andrology. He regularly attends conferences and CMEs to keep his knowledge base updated.
Excellence & Experience
Area of excellence
Kidney stones
Ureteric stones
Sexual dysfunction
Male infertility
EndoUrology
Paediatric Urology and Andrology
Level of Experience
Professor at Kottayam Medical College
Consultant Urologist at various multi-specialty hospitals in India and Kuwait since 1993
Awards & Academics
Academics Details
MBBS – Government Medical College, Kottayam, India (1983)
MS – Govt Medical College, Trivandrum, India (1988)
Mch (Urology) – Govt Medical College, Trivandrum, India (1993)
Out Patient Timings
The outpatient timings at Badr Al Samaa Hospitals have been planned in such a way that your choice of doctor is available whenever you are free.
Sunday
9:00 AM - 1:00 PM
Farwaniya - Kuwait
5:00 PM - 9:00 PM
Farwaniya - Kuwait
Monday
Tuesday
9:00 AM - 1:00 PM
Farwaniya - Kuwait
5:00 PM - 9:00 PM
Farwaniya - Kuwait
Wednesday
9:00 AM - 1:00 PM
Farwaniya - Kuwait
5:00 PM - 9:00 PM
Farwaniya - Kuwait
Thursday
9:00 AM - 1:00 PM
Farwaniya - Kuwait
5:00 PM - 9:00 PM
Farwaniya - Kuwait
Friday
9:00 AM - 1:00 PM
Farwaniya - Kuwait
5:00 PM - 9:00 PM
Farwaniya - Kuwait
Saturday
9:00 AM - 1:00 PM
Farwaniya - Kuwait
5:00 PM - 9:00 PM
Farwaniya - Kuwait